Taiwan is an extremely small country—about the size of the US state of Maryland. This is one of its great strengths: It's easy to see virtually everywhere in Taiwan in about two weeks or less.
While Taiwan has an impressive network of high-speed and traditional railways, and is also relatively easy to navigate by bus and private car, there are actually instances where you need to fly domestically. And not just to outlying islands like Kinmen, Penghu and Matsu, although these are the most common destinations.
Sit back and relax while I explain everything you need to know about domestic flights in Taiwan. Including, most importantly, whether or not you'll even need to take one.
Why You Might Need to Fly Domestic in Taipei
Domestic flights in Taiwan aren't extremely common, but they can be useful. The most obvious reason for these is that Taiwan is not just one island. Rather, there are also three archipelagoes to the west of the mainland (Matsu, Kinmen and Penghu) as well as some islands in the southeast just off the coast of Taitung County. Practically speaking, you'll need to take a flight if you want to visit these places.
As a general rule, I don't recommend flying domestically if you plan to stay on the main island of Taiwan, with the possible exception of Taitung. Taitung is the farthest city away from Taipei, and isn't served by the Taiwan high-speed rail. As a result, depending on your circumstances, it may make more sense to take a quick domestic flight than to sit on an ordinary train from hours.
Top Domestic Flight Routes from Taipei
Kinmen
Many passengers who board a domestic flight at Songshan Airport are bound for the Kinmen archipelago. Located closer to mainland China (specifically, the city of Xiamen) than to Taiwan, Kinmen is one of the farthest places you can travel within the borders of Taiwan—it's not shocking you have to fly to get here.
Penghu
As is the case with Kinmen, many Taiwanese domestic flights are bound for Penghu, which also sits between Taiwan and the Chinese mainland. Unlike Kinmen, Penghu is a much more popular tourist destination for Taiwanese; the latter sees many more residents (and families of residents) commute.
Matsu
In terms of tourism appeal, the Matsu islands sit somewhere between Penghu and Kinmen. While they're not especially popular, especially not among foreign tourists, certain attractions (such as the "blue tears" of Beigan Island) are definitely among the best in Taiwan.
Hualien
It might sound strange to consider flying from Taipei to Hualien, given that trains make the journey between the two cities in less than three hours. In my experience, most people to opt to make this journey are either connecting from an international flight, or are business travelers in a hurry.
Taitung
Some travelers decide to fly from Taipei to Taitung because, in spite of the two cities being connected by direct train, the journey nonetheless takes half a day. Others, of course, are merely connecting in Taitung: From here, you can connect onward to Lanyu and Lüdao, Orchid Island and Green Island.
Don't Go to Taoyuan Airport for Your Domestic Flight
Taipei has two airports, which you'll probably realize if you take any hikes north of the city and see planes taking off from or landing at Songshan Airport, which is in the city center. Taoyuan Airport, where you probably arrived in hand, is far to the west of central Taipei. While both of these airports have international flights, only Songshan serves domestic ones—don't go to Taoyuan if you plan to fly domestically.
Instead, make a beeline for Songshan. From most parts of central Taipei, Uber is an affordable way to reach Songshan Airport, and is also the easiest way to get there if you have a bunch of luggage. However, if you want to save money or are concerned about traffic, you can instead ride the MRT Brown Line to Songshan Airport. The station is literally in the airport's basement!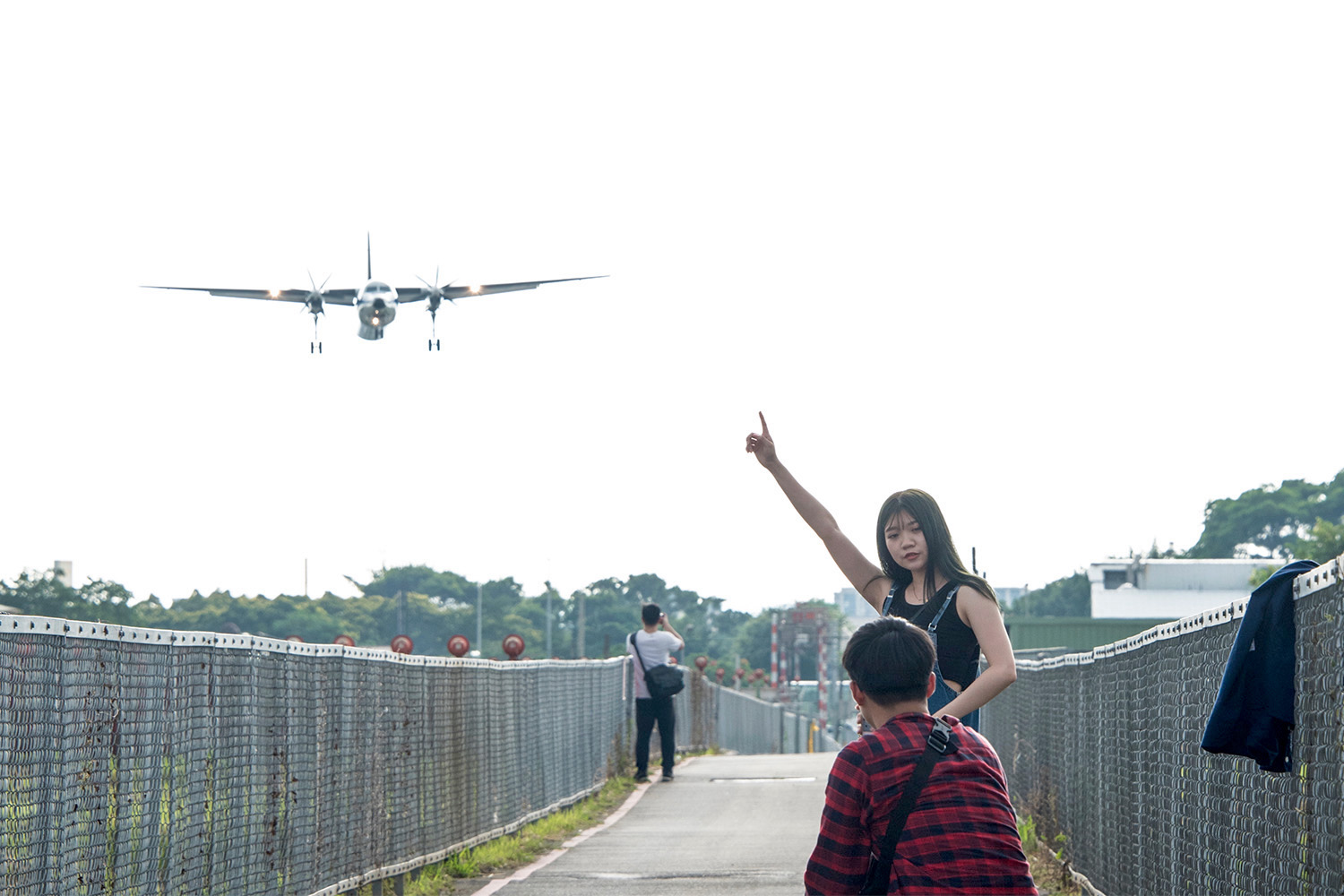 Other FAQ About Domestic Flights in Taiwan
Does Taiwan have domestic flights?
Taiwan has a few dozen domestic flights every day, although its domestic flight network is not as robust as the one in Japan, or even Korea. For the most part, travelers fly to outlying island archipelagoes such as Kinmen and Penghu, although a limited number of domestic flights operate between Taipei and cities on the Taiwanese mainland.
What are the domestic airlines in Taiwan?
Taiwan's primary domestic airlines are UNI Air and Mandarin Airlines, which are the domestic subsidiaries of EVA Air and China Airlines, respectively. In the past, a limited number of domestic flights in Taiwan were also operated by the much smaller TransAsia Airways, which has since gone under.
How do I get to Penghu?
The best way to reach Penghu is to take one of the frequent domestic flights from Songshan Airport. While you can also technically get there via ferry from Kaohsiung, this is not an especially practical option. If you book far enough in advance, you can fly cheaply from Taipei, which only takes about an hour.
The Bottom Line
I'll be honest: I haven't taken many domestic flights in Taiwan, even after years of exploring (and living) in the country. With this being said, they do have their utility, especially for visiting Taiwan's outlying islands. Certainly, there's a novelty to boarding a domestic flight in a country like Taiwan, which is smaller than the majority of US states. At the same time, I don't blame you for wanting to avoid the stress of airport security (no to mention, getting to the airport) if you can at all avoid it. Want to make sure your next Taiwan trip is one for the record books? Consider hiring me to plan it!