Of all the amazing things to do in Keelung (and there are many), I found myself focused on just one for the longest time: Visiting (and photographing) the city's famous night market with its iconic yellow lanterns illuminated.
This eluded me, literally for years. I ventured to the market no less than a dozen times between late 2018 and the middle of 2020, only to find the rows of flaxen lamps as dark as the night above. It made no sense, given that they seemed to be so iconic.
I eventually solved the riddle—and I'll explain how I did in just a second. For now, let's talk about more practical aspects of visiting Keelung (which is actually pronounced Ji-long) from Taipei.
How to Get to Keelung
Before I begin talking you through specific things to do in Keelung, let's discuss how to get there. Interestingly, I find there's a split in strategy between foreigners and Taiwanese. I always head to Taipei Main Station, then transfer from the Taipei MRT to a TRA train and board one of the many northbound services with Keelung as its terminus. This is great because you can simply tap your EasyCard, walk to the platform and board the next train.
My Taiwanese friends, however, always ride the bus from Taipei to Keelung, whether departing from Taipei Bus Station (which is connected to Taipei Main Station) or from elsewhere in the city. There's actually a service that leaves a block from my apartment! The point is that there are plenty of ways to get to Keelung; although Taiwanese trains might be a bit slower in this instance, I do prefer them.
What to Do in Keelung
Eat Your Way Through Miaokou Night Market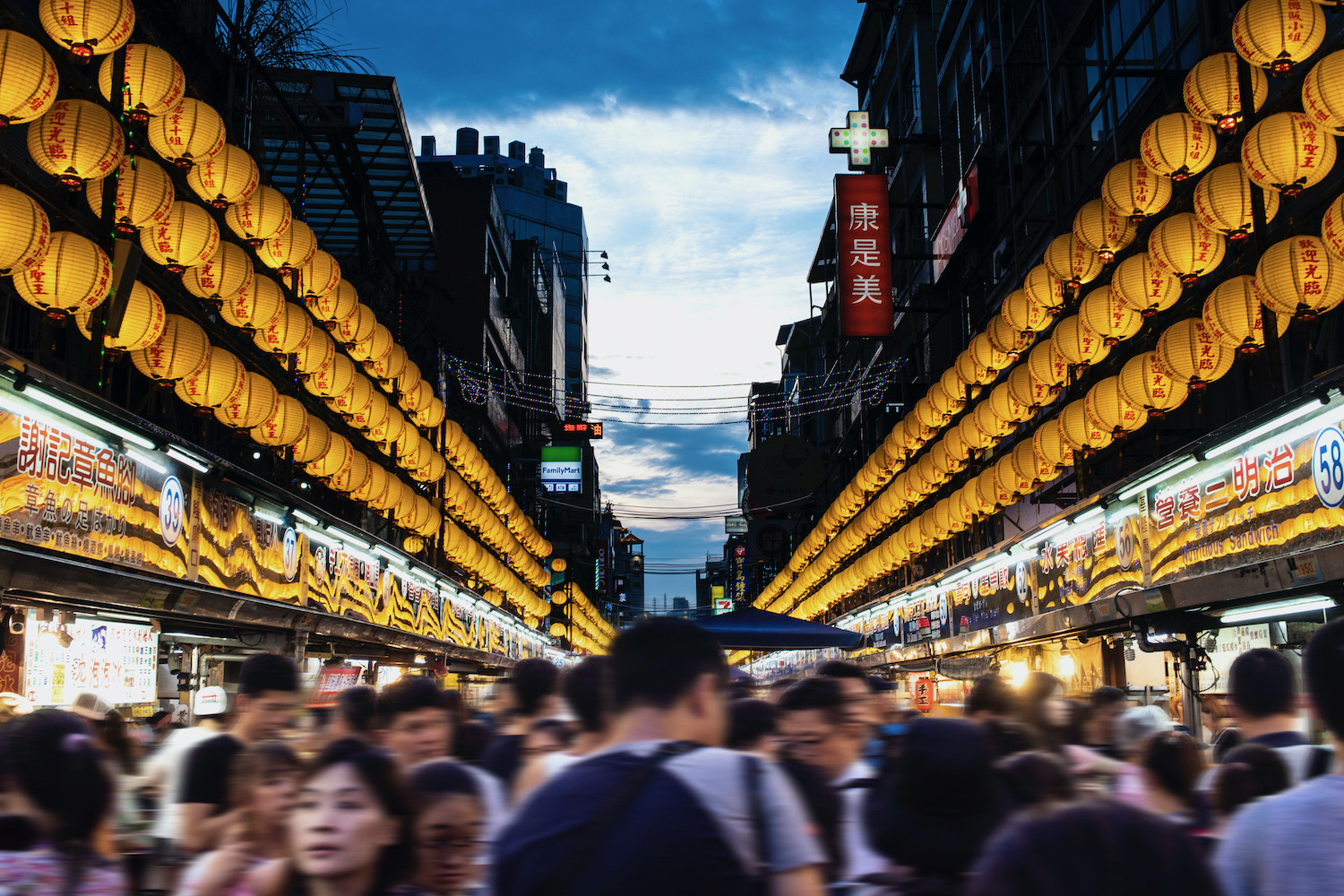 I'll start with a tip: If your main priority is visiting Keelung night market (and you aren't riding a rapid service), you can actually get off the train in Sankeng—it's the same walking distance as from the busier, larger Keelung Station. As far as the Miaokou Night Market itself, I presume you will largely follow your own tastebuds, although I especially like the "peanut ice" at Stall 41, the "crab thick soup" at Stall 5 and the sausages at Stall 43-1. (TIP: If you want to see the yellow lanterns lit up, you must go on Saturday or Sunday night! They are dark all the other nights of the week.)
Pose for Selfies at Zhengbin Fishing Harbor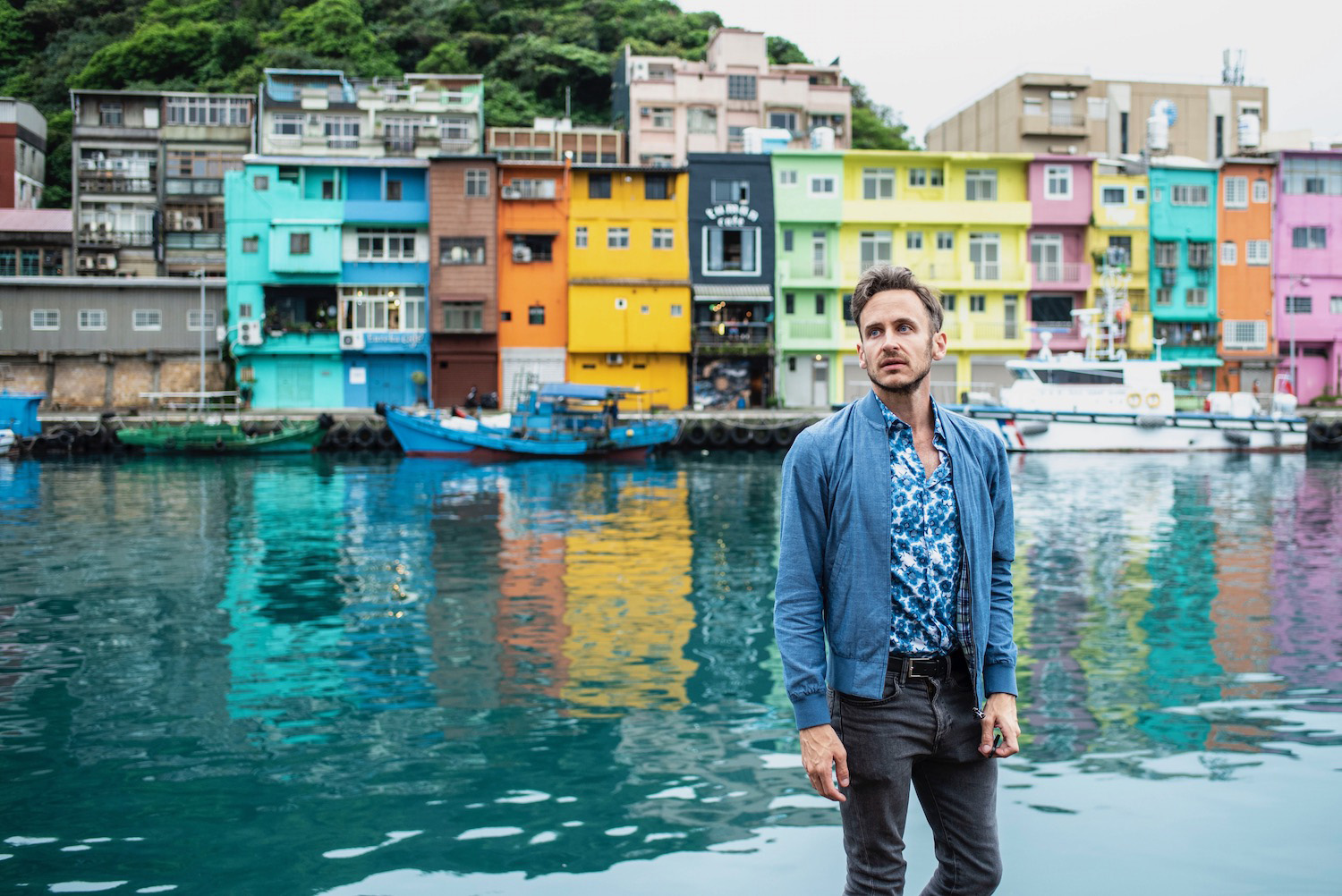 Another one of my favorite things to do in Keelung is bit outside the city—15 minutes or so by bus, or an hour by foot if you want to walk. (I did once, as I had something I needed to think about). Regardless of how you get here, Zhengbin Fishing Harbor and its row of colorful buildings is pretty straightforward. Most people come to get an Instagram boost, which is a pretty sure bet given how picturesque the harbor is.
Gain Some Perspective at Zhongzheng Park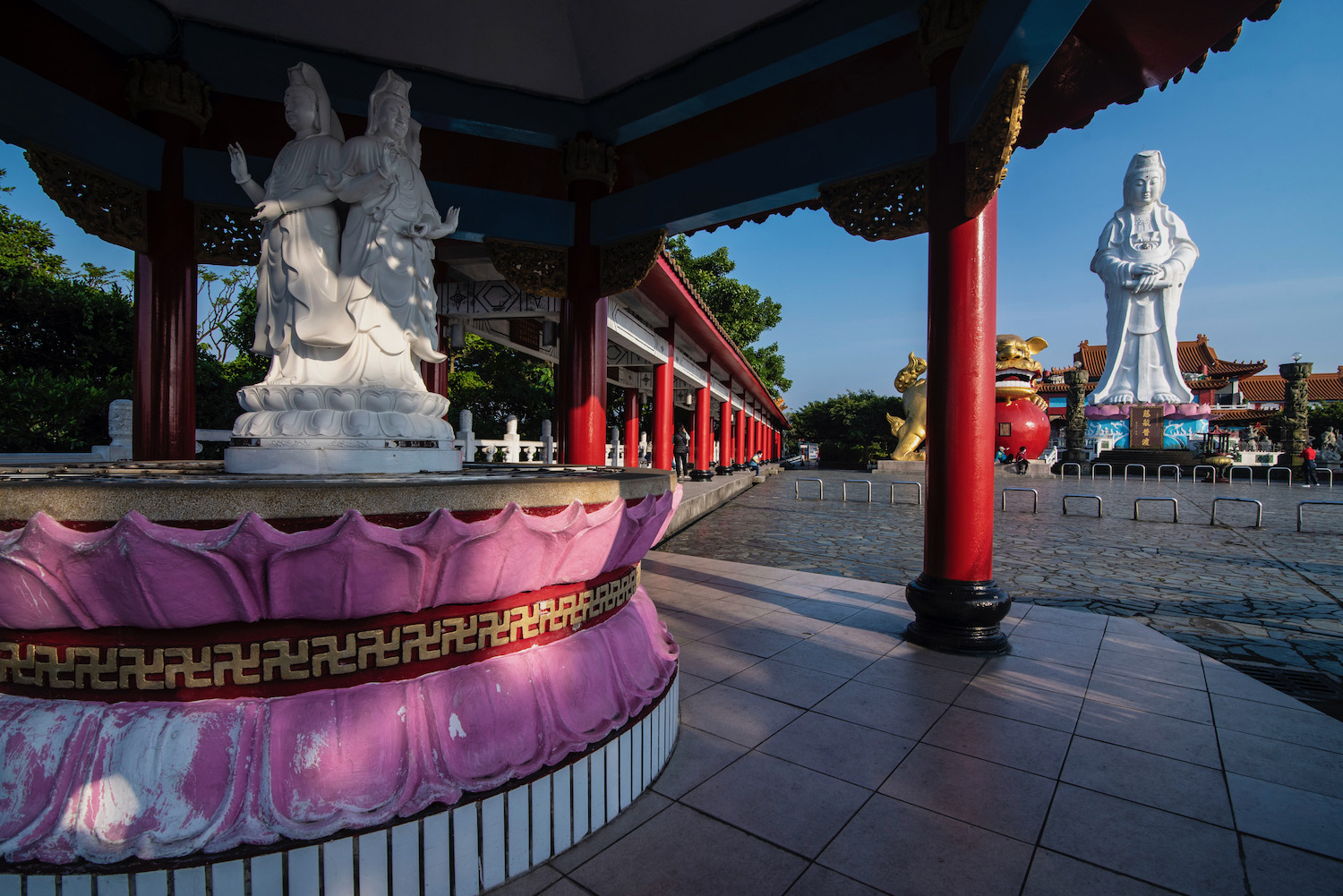 Whether you come to enjoy a night view of Keelung, or simply to admire the towering Guan Yin statue, the city's Zhongzheng Park is worth the trek up. I especially love coming up here in the late afternoon, when the light is absolutely beautiful, and walking down to the night market when I'm done. That way, I'm good and tired—and I've preemptively burned off many of the calories I'll consume!
See the Queen's Head Before She Loses It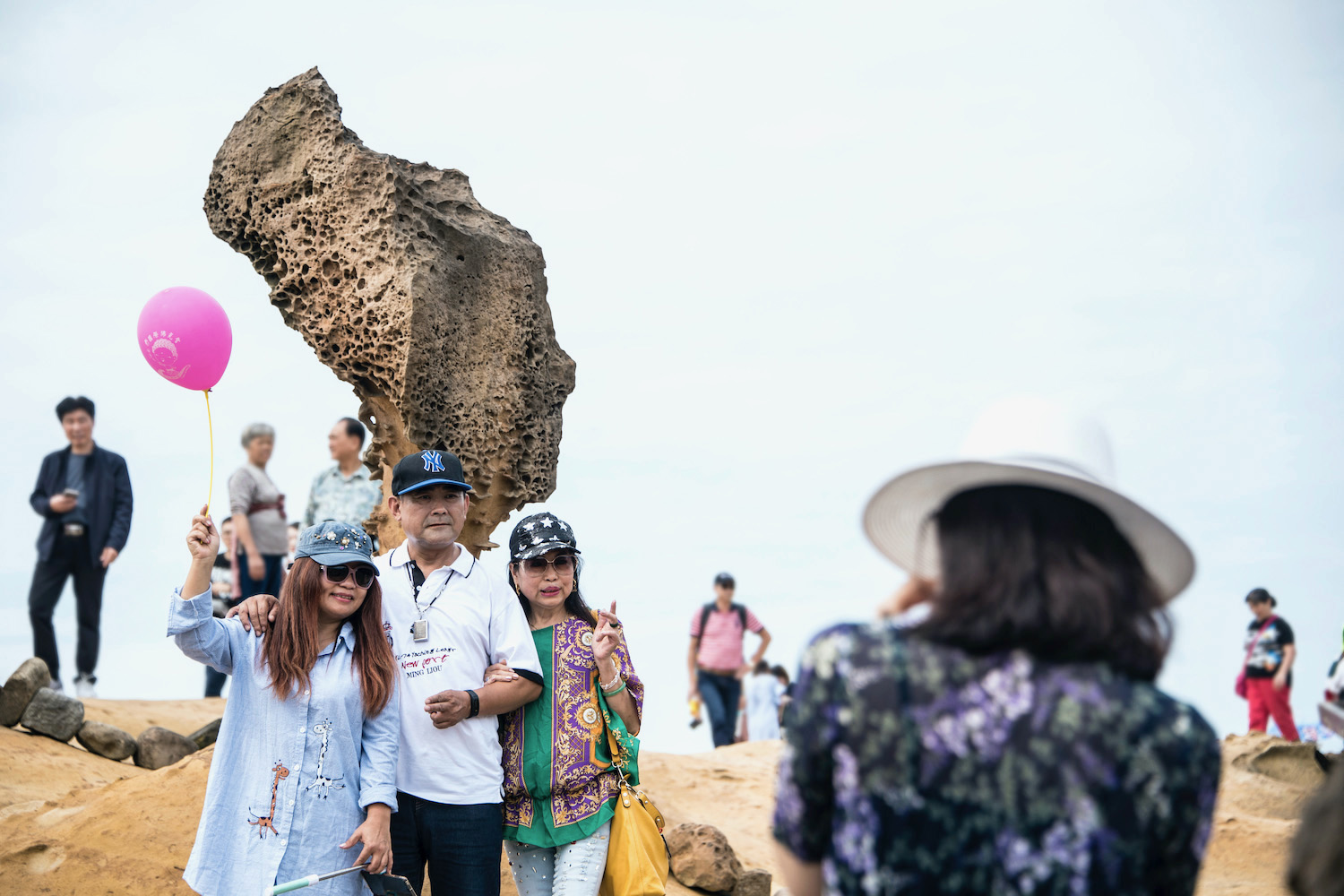 Next, let's move along to some things to do in Keelung that are technically a way's outside the city. Known in Chinese as Yehliu National Geopark, the so-called "Queen's Head" is much smaller than you'd imagine based on marketing paraphernalia, and also extremely crowded. I personally get a kick out of the fact that they've built a fake "Queen's Head II," in order to have a record of the original whenever erosion finally decapitates her.
Explore the Rest of the North Coast
As I've often said on this website, beaches in Taiwan leave something to be desired. Specifically, the most beautiful ones are the least swimmable, and vice-versa. This is certainly the case at Baishawan Beach, which not only fails to live up to its name (Bai Sha means "white sand" in Chinese) but is also rather crowded. Still, it's much easier to swim here than it is at Laomei Green Reef, whose famously verdant rocks are treacherous even to walk on!
Should You Stay Overnight in Keelung?
Giving that I live in Taipei, I'm a bit biased about this. With this being said, there are plenty of stylish and affordable Keelung hotels on offer, from the big-box Evergreen Laurel Hotel to the boutique-style KEEBE. I can see the appeal of being able to explore the night market until closing time, or of getting up at the crack of dawn and enjoying a walk along Keelung Harbor without the crowds.
In general, I'd say that if you select things to do in Keelung that are only within the city (i.e. you don't visit Yehliu or go to Baishawan Beach), you're probably OK visiting for the day (even if it's a rather long day) from Taipei. However, if you want to take your time along Taiwan's north coast, spending a night in Keelung might make sense, especially if you can find a hotel you really like.
Other Day Excursions from Taipei
I've written a dedicated article about day trips from Taipei, but if you don't want to check it out (shame on you!), I'll summarize my findings here. I like to think about such excursions in a few categories: City trips; culture trips; and nature trips. Note that in some instances these overlap, particularly if your day trip morphs into a weekend one thanks to an overnight stay!
When traveling from Taipei to Jiufen, for example, you can combine a stroll along Jiufen Old Street with a hike up Teapot Mountain. After a meal in aboriginal Wulai, you can take a dip in the famous hot spring, or walk to one of the many nearby waterfalls. Of course, some destinations are more one-note—and that's fine. I'm thinking primarily about the Seven Stars Trail in Yangmingshan National Park, which is nature, nature and more nature!
Other FAQ About Visiting Keelung
Is Keelung worth visiting?
Keelung is absolutely worth visiting—and not just because it's an easy afternoon or evening trip from Taipei. Even if you simply come up for the night to eat your way through Miaokou Night Market, Keelung is a place you'll want to come again and again—trust me, I know.
What is Keelung known for?
Keelung is known as being the "Port of Taipei," and also as a famous foodie destination. In August, people from all around Taiwan come here for the annual ghost festival; Instagrammers flock to Keelung year round to snap selfies at colorful Zhengbin Fishing Harbor.
Where to go outside Taipei?
Obviously, if you've arrived at this Keelung travel guide, one of my top recommendations is that you take a day trip from Taipei to Keelung. Beyond this, however, other top destinations include Jiufen Old Street, the various hiking trails atop Yangmingshan Mountain and the aboriginal village of Wulai, which is just south of Taipei City.
The Bottom Line
The good news? Whether or not seeing the lit-up lanterns of the night market tops your list of things to do in Keelung, you know how to avoid the failure that plagued me for so long. The better news? I hope you now realize that Keelung is so much more than its night market. From the rainbow facades of Zhengbin Fishing Harbor, to the sweeping views you enjoy from Zhongzheng Park, Keelung will surprise and delight you. I've visited more than a dozen times, and it never disappoints me! Make sure your next trip to Taiwan is one for the record books—hire me to plan it for you!