Taipei, as I've said often this blog, has the most underrated mass transit system in the world. While's it not as extensive as Tokyo's, it's also not as complicated; it's less crowded than Hong Kong's and more expansive than Singapore's.
This is true not just for going places within the city as you sightseeing, but for getting out of the city, and indeed the country: Taipei is extremely well-connected to both its airports. Unless you fly extremely early or are in a very last-minute situation, in fact, taking a train or bus is actually preferable to a taxi or Uber.
Over the new few paragraphs, I'll outline all the ways you can get to Taipei to airport, whether you're flying from Taoyuan or Songshan. It might seem complicated now, but it will soon become second nature to you!
Reminder: Taipei Has Two Airports
Before you go about finding your way from Taipei to airport, you need to verify which airport you'll be using. For most travelers, the answer is Taiwan Taoyuan International Airport, the city's—and country's—main airport. Located in Taoyuan County just northwest of Taipei City, this airport handles the vast majority of international flights departing Taiwan.
If you're flying domestically within Taiwan, on the other hand, you're definitely using Songshan Airport. This airport also handles a limited number of regional international flights, including popular routes to Tokyo's Haneda Airport, as well as to other "close-in" Asian airports such as Seoul's Gimpo and Shanghai's Hongqiao. While both airports are well-connected to central Taipei, Songshan is geographically much closer than Taoyuan.
Order Your EasyCard Now
Make your life a lot easier upon arriving in Taiwan—
order an EasyCard in advance
! This card will allow you to tap on and off of all kinds of transport in Taiwan, including the
Taoyuan Metro
and the
Taipei MRT
.
How to Reach Taipei's Airports from the City
Taoyuan Metro to Taoyuan Airport
Whether you're traveling to or from Taoyuan Airport, the Taoyuan MRT is the fastest way to get to central Taipei. If you're headed to or from Taipei Main Station (as most tourists are) make sure to take an Express service, which has fewer stops and takes between 35-38 minutes to reach the city. On the way in, make sure and take note of whether your flight departs from Terminal 1 or Terminal 2, as these are separate stations.
MRT Brown Line to Songshan Airport
If you need to travel from Taipei to Songshan (or vice-versa), meanwhile, ride to (or from) the Songshan Airport Station on the Taipei MRT Brown Line. Note that unless you happen to be staying on this line (such as near Da'an Station), you'll need to transfer to more popular lines such as the Red, Blue and Green ones, which all intersect the Brown Line.
City bus to Songshan Airport
Prefer not to transfer MRT lines on your way to the airport? Several city buses go to Songshan Airport. As reductive as this sounds, the best way to determine whether this is possible for you is to type "Songshan Airport" into Google Maps and see what comes up. This will direct you to the appropriate bus stop, and will also tell you which bus to take and which time it comes (including the Chinese characters that will display on front of the bus, which is extremely helpful).
Uber to both Taoyuan and Songshan
Uber is probably the best private car option from both Taipei to Taoyuan and to Songshan. However, I wouldn't necessarily recommend it except under a couple of circumstances. First, if you're in a huge rush and just doesn't have time to walk to the nearest MRT stop; or secondly, because your flight departs before or arrives after the last MRT departs. For reference an Uber to Taoyuan Airport from central Taipei will run between NT$1,000-1,200, on average.
Taxi to both Taoyuan and Songshan
You can also take a taxi between both of Taipei's airports and its city center, but there are drawbacks to this when compared to Uber. First, it's slightly more expensive, at least to Taoyuan—around NT$1,500 in most cases. Secondly, not all Taipei taxi drivers can speak English. Finally, while most Taipei taxis accept EasyCard, many don't accept credit cards, so you'll probably need to have quite a bit of TWD cash.
A Hack for Using the Taoyuan Airport MRT
Ostensibly—and by design—the Taoyuan Metro terminates at Taipei Main Station, allowing for convenient connections to TRA and HSR, as well as the Blue and Red Lines of the Taipei MRT. Did you know, however, that you can walk via underground passage (and without paying any additional fare) to Beimen Station? The most obvious convenience of this is that it allows you to ride the useful MRT Green Line.
However, another reason I love entering and exiting Beimen Station when traveling from Taipei to airport is that Beiman Station is significantly less crowded (and also less serpentine) than Taipei Main Station. It's quicker to get through because reaching the Taoyuan MRT terminal is a straight shot and there are way less people. If you're staying near a green line station or can easily transfer to the Green Line, go to Taoyuan via Beimen—trust me.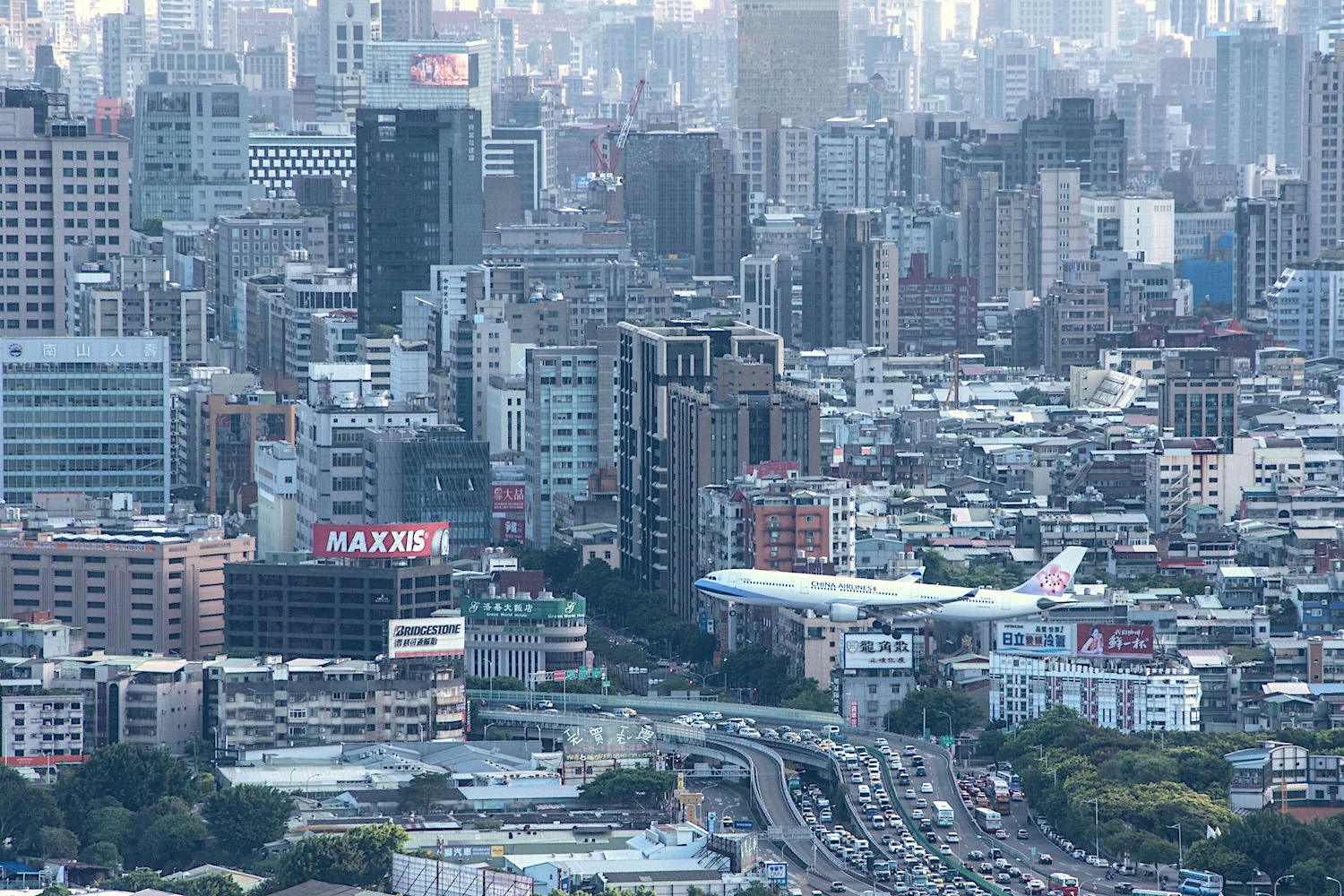 Other FAQ About Traveling to Taipei's Airports
How do I get from Taipei City to the airport?
To reach Taoyuan Airport from Taipei City, ride the Taoyuan Metro from Taipei Main Station to whichever terminal you're departing from. To reach Songshan, meanwhile, simply ride the Brown Line of the Taipei MRT to Songshan Airport Station.
How far is the Taipei Airport from the city?
Taoyuan Airport sits 30 km (as the crow flies) from central Taipei and about 43 km by road. Songshan Airport, meanwhile, is within the city limits, although it's several kilometers from most Taipei landmarks, including Taipei 101, Da'an Park and the Ximending pedestrian area.
How much is the taxi from Taipei Main Station to airport?
If you take a taxi from Taipei Main Station to Taoyuan Airport, it will probably cost you somewhere north of 1,500 TWD, or around 50 USD, maybe slightly less. An Uber, however, is unlikely to cost much more than NT$1,000—this is the preferable option. The cost of both taxis and Ubers to and from Songshan is negligible (albeit much higher than that of taking the MRT or bus).
The Bottom Line
I hope you've now got a lot clearer idea of how to get from Taipei to airport. If you're flying from Taoyuan, it's likely that your best bet will be the Taoyuan Metro. If you're bound for Songshan, on the other hand, you have two mass transit options: The MRT brown line; and any number of public buses. There are situations, for both Taoyuan and Songshan, where it makes sense to take a taxi or Uber, from a very early or late departure, to the possibility that you might simply be running late. Still need help figuring out the final details of your trip to Taiwan? Consider hiring me to plan it!