Although I don't make a point of traveling to pride festivals around the world, I have to admit that my experience at Taipei Gay Pride in 2019 was one of my happiest memories ever. It came within weeks of a particularly painful breakup—the sense of solidarity there, during the parade and apart from it, was exactly what I needed.
Sadly, Taiwan Pride looks was off-limits for the covid years, in spite of how badly the whole world needed a bit of solidarity. The good news? From 2023 onwards, Taiwan once again became the pride capital of Asia.
Continue reading to learn more about Taiwan gay pride, and why you should make the journey there(if you aren't already convinced).
Will Taipei Pride Take Place in 2024?
The good news? After many years on pause due to covid-induced hysteria, Taipei Gay Pride once again too place during the last weekend of October 2023. And as has happened in years past, the 2024 parade will begin in the early afternoon in front of Taipei City Hall and finish at Chiang Kai-Shek Memorial Hall sometime around sunset. I'm hopeful that by this point, onerous masking requirements will have long since been removed and things can go "back to normal" as much as possible.
The better news? If you haven't been to Taiwan in a while (or have never been at all), this is the perfect opportunity to explore the country. From a weather perspective, I'd probably recommend starting your trip with a week in Taipei leading up to pride, and then setting off on the Monday or Tuesday after the festival to start traveling around the island.
Why Taiwan Pride is the Best in the World
Taipei's gay scene
Apart from the person involved in the breakup I mentioned in the introduction to this piece, the gay men I've met in Taiwan are some of the kindest and most interesting people I've met anywhere in the world. There's some drama, of course, but as a general rule the community is tight-knit and stands in solidarity; everyone is welcome by most everyone else.
Comfort and convenience
Another thing I love about Taiwan Gay Pride is how Taipei's own convenience makes participating in events so easy. Beyond the fact that the parade begins and ends steps from two subway stations ("Taipei City Hall" on the Blue Line and "Chiang Kai-Shek Memorial Hall" on the Green Line), you can get to most events within 15-20 minutes from everywhere in the city.
Taiwan's post-pride weather
While pride itself can sometimes coincide with rain or clouds, any less-than-ideal days are usually among the last of a given year. If you decide to stay after Taipei Pride and sightsee (as you absolutely should), you'll find glorious weather in much of the country. The North will be cool and clear; the South may be muggier, but won't yet be experiencing its monsoon.
Diversity of the pride crowd
Taipei Pride is ostensibly a Taiwanese event, but it attracts people from all over the world. Before the pandemic, in fact, it was probably the most-visited Pride not in Europe or North America; I literally crossed paths with dozens of people I'd met elsewhere in the world, usually within prior notice. No matter what type of man or scene you like, you'll find it represented at pride in Taipei.
Uniqueness in Asia
Although the whole world is present at Taiwan Pride, you'll notice a disproportionate number of people from throughout Asia. This is good not only if you love to meet guys from different Asian countries, but also because of what the event means to them; many come from countries where it is not easy (or maybe even legal) to be gay. Taipei Pride is a celebration of identity, yes, but also hope and freedom.
What About Taipei Gay Pride 2025?
Although the official dates for Taiwan Pride 2025 have not been set, it will take place during the last week of October, as gay pride in Taipei always does. The same things that are true in all other years—the sense of community, opportunities for travel and the convenience of Taipei as a travel destination—will hold true in 2025, with increasingly fewer relics of the covid era still haunting attendees.
I'd recommend bookmarking this Taiwan Gay Pride page, as I'll be updating it once this year's festivities have finished. At that point, the main subject of this page will become the 2024 event; we'll be looking forward to 2025's Taipei Pride, which I hope will be fully unencumbered by mentions of covid, which will ideally be nothing more than a bad memory by that point.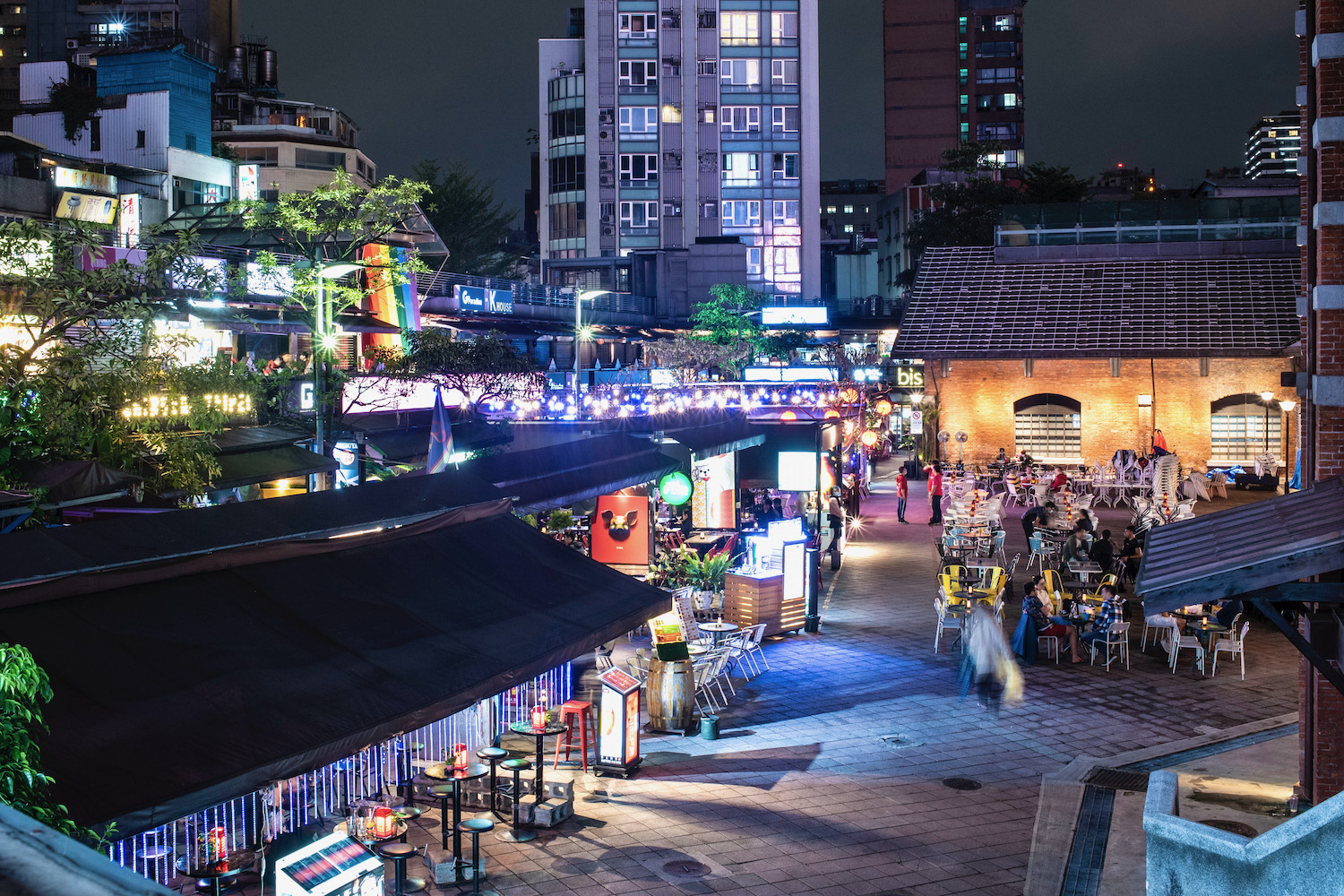 Other FAQ About Taipei Gay Pride
Is the Ximen Red House a gay bar?
Although many famous Taipei gay bars are located within the Ximen Red House, this historical building is famous for more than the great music and nice cocktails you find within it. In fact, its location near the popular Ximending shopping street has made it as famous among straight tourists as it is among gay ones!
Is Taiwan gay friendly?
Taiwan is an extremely gay friendly country. Even before gay marriage became legal in 2017, Taiwan was famous for its accepting attitude toward gay people, particularly in Taipei city. In fact, Taipei is one of the few majors in city where LGBT can fully and openly be themselves without fear of violence or judgment.
Can gay foreigners get married in Taiwan?
Foreigners can take advantage of Taiwan's legal gay marriage—but there's a catch: You need to come from a country where gay marriage is legal. A 2021 legal ruling that allowed a Taiwan-Macau couple to wed has raised hopes of more exceptions in the future.
The Bottom Line
Although you weren't able to attend Taipei Gay Pride during the covid years, I encourage you to keep it on your bucket list for 2024 and beyond. At no other LGBT event in my life have I felt more solidarity with fellow attendees—I've never felt more proud to be gay. Moreover, coming to Taiwan for Pride presents the perfect opportunity to discover all the best destinations in Taiwan, particularly if you travel afterwards—the weather during the month of November is absolutely perfect. Need help putting together your post-Pride Taiwan travel adventure? Consider hiring me to plan your Taiwan trip.