If we're being technical, my journey from Taipei to Alishan began with a night in the city of Chiayi—I wrote about that here. I'm not feeling technical today, however, so let's start with an image instead.
And in present tense: I peer out the window and hone in on silhouettes of lanky bamboo and betel-nut palms atop the ridge the bus is speeding toward. Are they scraping the sky, or is the sky simply getting caught on their messy hairdos as it tries to glide over them?
The motion sickness I braced for never comes, not even around the increasingly tight bends in the road that leads to the town of Shizuo. Only one other traveler disembarks here, which bodes well for my chances of finding a forlorn tea field or two.
An Imperfect Sinusoid
"Forlorn," it turns out, isn't the right word. I'm quite literally the only person on the path Dingshizao lookout—well, the only pedestrian. It's a road, not a path, though it's still not a time to dwell on technicalities.

For the second time today I'm trapped in an image, this time with verdant rows of high-mountain oolong rolling down a hill that never seems to end. It rolls back up, (and down again and up again, an imperfect sinusoid); my only indication that it has a limit at all is the sky above, which is surprisingly hazy for how far out in nature I am—for how high up we are—what with a huge majority of global emissions currently halted.
After trespassing into a few different farmers' fields, I continue winding up the road, and see a temple rising that wouldn't seem out of place back at home in the capital. Well, not the dragons and phoenixes and wise men in the precise array of colors every Taiwanese temple seems to showcase, never mind that the scenery dramatically reflects the long journey from Taipei to Alishan.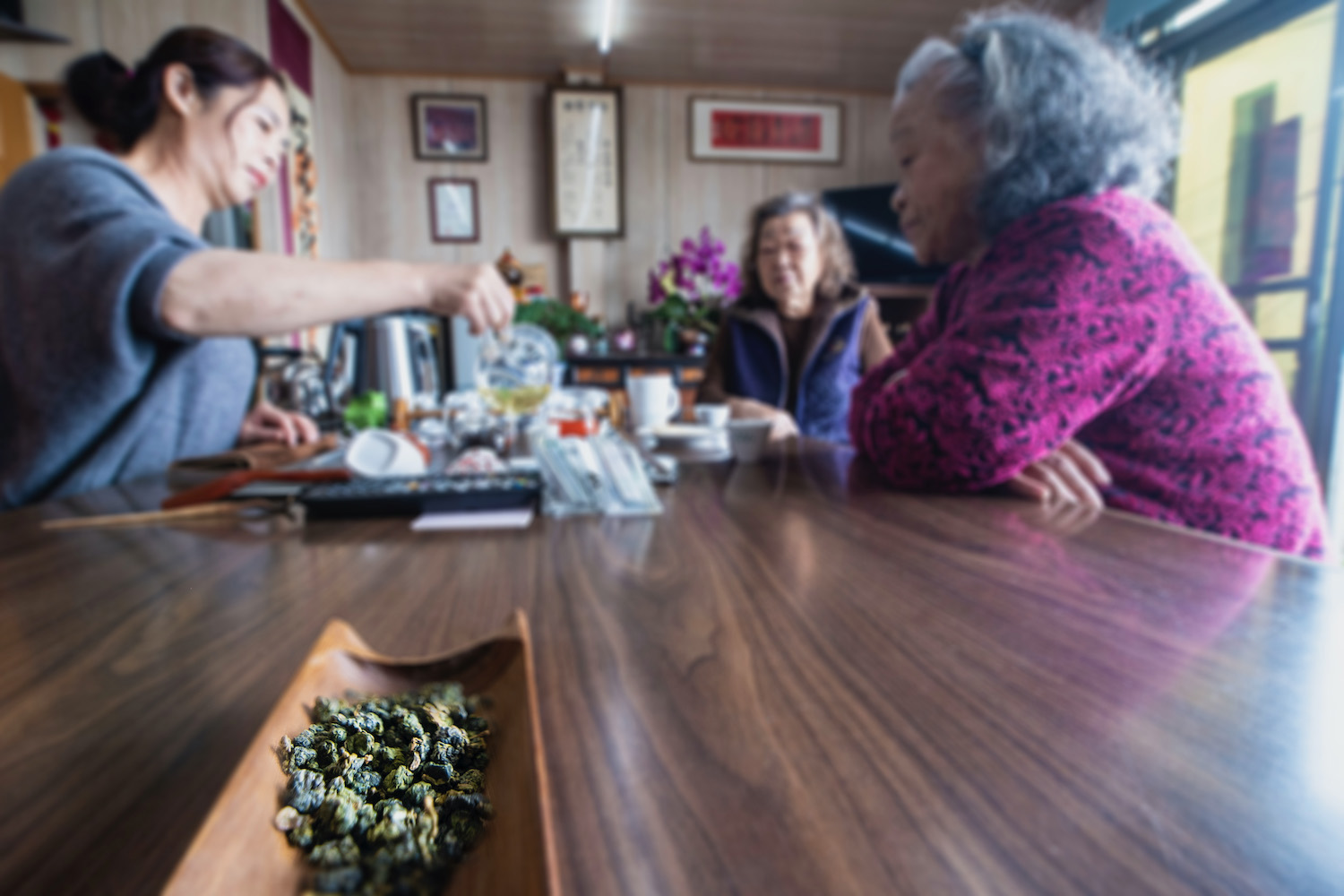 I could really go for a cup of tea right now—and a scone, I think and lick my lips. The oolong fields of Alishan are definitely not the Cameron Highlands; I'll be lucky if I can find a place to drink tea, let alone to wash something down with it.
Red in Chinese
The "tea house" is clearly a tea shop, but I'm not going to parse the Google Maps description. The woman inside answers affirmatively when I ask her, in Chinese, if I can drink tea there.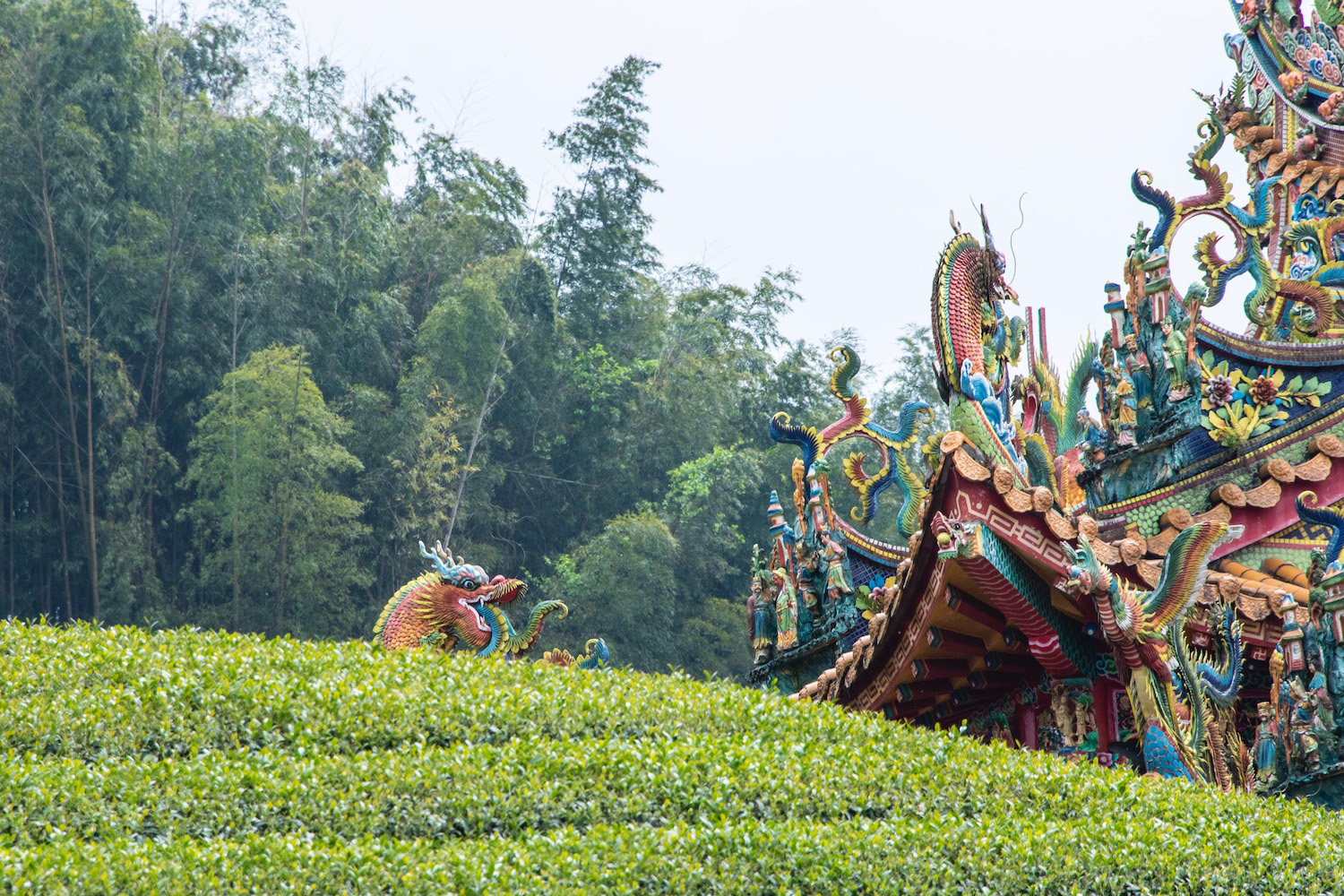 Shockingly, the first is the first time during my trip from Taipei to Alishan that I have to make use of another Google product—Translate—in order to converse. I'm able to tell the woman that I'm from Missouri and I live in Taipei, but once I explain that I prefer black tea (which is "red" in Chinese) to green or white, it's all downhill.
She lets me drink tea; and she teaches me how to drink it. Or at least how to transfer it from the tall, thin shot glass she pours it in into the cup from which I'm supposed to sip it.
I do well enough the first time that the two old women seated across from her clap. One of them is her mother, I imagine, though I'm not sure if it's the one whose blouse matches the orchid on the far wall. They laugh the second time, when most of the tea spills out.
How My Thoughts Move
It takes the appearance of the woman's daughter (I suppose my loud and lout-ish Mandarin woke her) for me to confirm that one of the women is her mother. She (the original woman this is) insists we get a picture together; before I know it I'm beginning the last leg of my journey from Taipei to Alishan.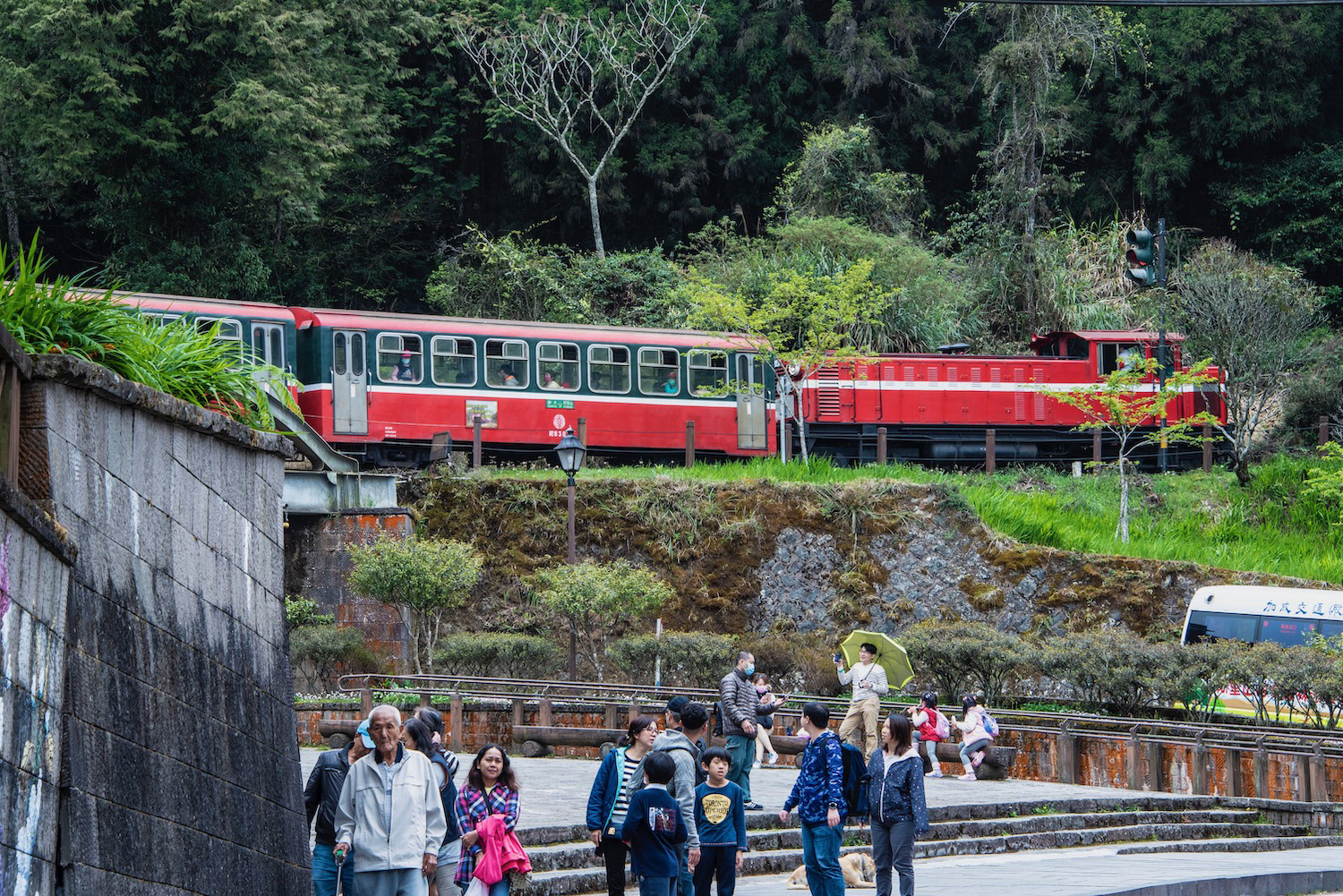 (Shizuo, you see, is not actually in Alishan, even though its tea fields are the only thing I've ever associated with the storied name—they were the only thing I really wanted to see.)
At any rate I'm on the bus now, and we're so high that bamboo and betel-nut palms have given way to wispy evergreens. We're in the sky I'd seen scraping the ridge hours earlier; I remember how a private English client I had when I lived back in Shanghai told me that "three generations living in the same home [was] the Chinese dream."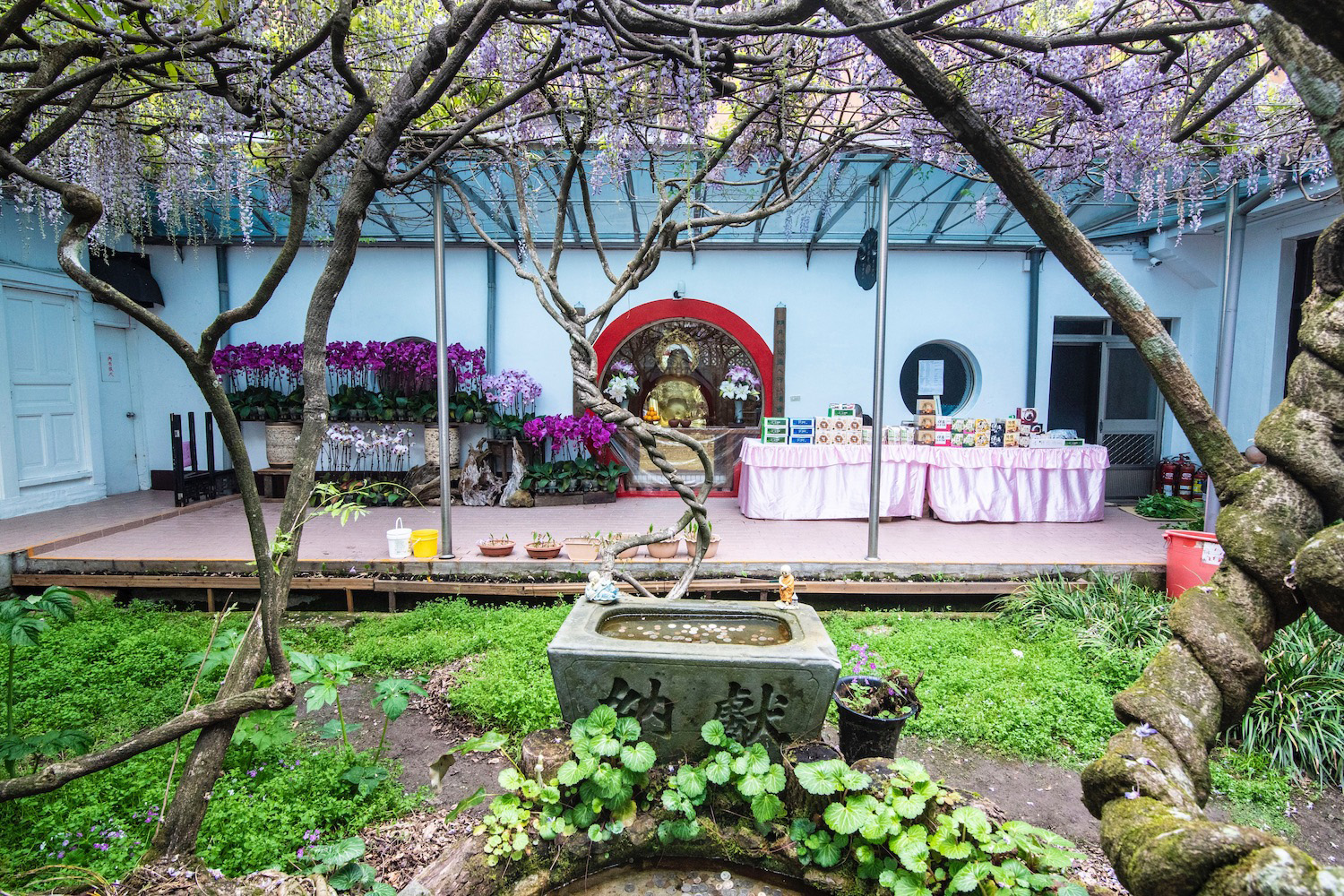 Taiwan is not part of China (coronavirus, if nothing else, has hammered this home for the whole world), but I can't help but wonder if the woman who taught me how to drink tea is living the dream. From Shanghai to Taipei to Alishan; from 2010 to 2020; from the free world to the one in the chains of a pandemic. This is how my thoughts move!
More or Less at Full Bloom
Alishan itself (I missed the recommended "old street" of Fengqihu, literally—I didn't feel disappointed in the least in not having seen it) is something of an afterthought, and not just in a literal sense.
I'm charmed enough by its ramshackle red trains and meandering mists and giant cedars (or at least their stumps) that evoke a rougher version of Yakushima, though I wouldn't have been upset if I had come all the way here and not come here. At least not until I wander into Ci Yun Temple, whose facade is so bland and uninspiring I'd never have known it was a house of worship, were it not for the two percent of battery my phone still has.
Inside, a wisteria more or less at full bloom hangs over an incense-filled courtyard, and a standard-issue Buddha behind glass. It's a far cry from that garden in Kitakyushu, but it's the closest thing I could hope to find to it (traveling from Taipei to Alishan and back, anyway).
Other FAQ About Visiting Alishan
Is Alishan worth visiting?
Alishan is absolutely worth visiting, whether you come only for the tea fields or take more advantage of the general high altitude and cool temperatures. Some travelers are reticent to visit Alishan on account of the time and expense of getting there, but trust me: It's worth it.
How can I go to Alishan, Taiwan?
The best way to reach Alishan is something of a two-step. First, ride the high-speed train from Taipei to Chiayi. Then, travel onward to your destination in Alishan, either by riding a bus or train from TRA Chiayi Station, or by renting a car and driving on your way.
How many days to stay in Alishan?
Although it's possible to see Alishan on a long day trip from Chiayi, there are definitely advantages to staying overnight. I'd recommend trying to find an accommodation that suits you, then deciding whether or not you want to spend a night (or more) in Alishan.