I'm willing to bet you've seen images of Fo Guang Shan temple online, even if you don't know where it is or never planned to visit. It features a massive seated Buddha flanked on both sides by rows of pagodas, all in front of dramatic mountain scenery.
That's the good news. The better news? Traveling to Fo Guang Shan is easy from anywhere in Taiwan, but especially from the country's southern hub of Kaohsiung.
Whether you're in Kaohsiung and wanting to take a day excursion, or are planning for a distant future trip, I assure you: You're in the right place.
The History of Fo Guang Shan
The story of the Fo Guang Shan Monastery began in 1967, Fo Guang Shan's founder Hsing Yun oversaw the groundbreaking ceremony. Hsing had long wanted to construct a global home for his sect of "Humanistic Buddhism," which aimed to enhance the appeal of Mahayana Buddhism to the modern world. It would take until 1975 for monastery's now-famous Buddha to be consecrated.
While Fo Guang Shan's so-called "Mountain Gate" closed to the public in 1997, it only remained this way until 2000. At any rate, since intercontinental tourism to Taiwan was minimal in the 1990s, this was of limited consequence. It would take Instagram launched in the early 2010s, to be sure, for Fo Guang Shan's global fame to skyrocket.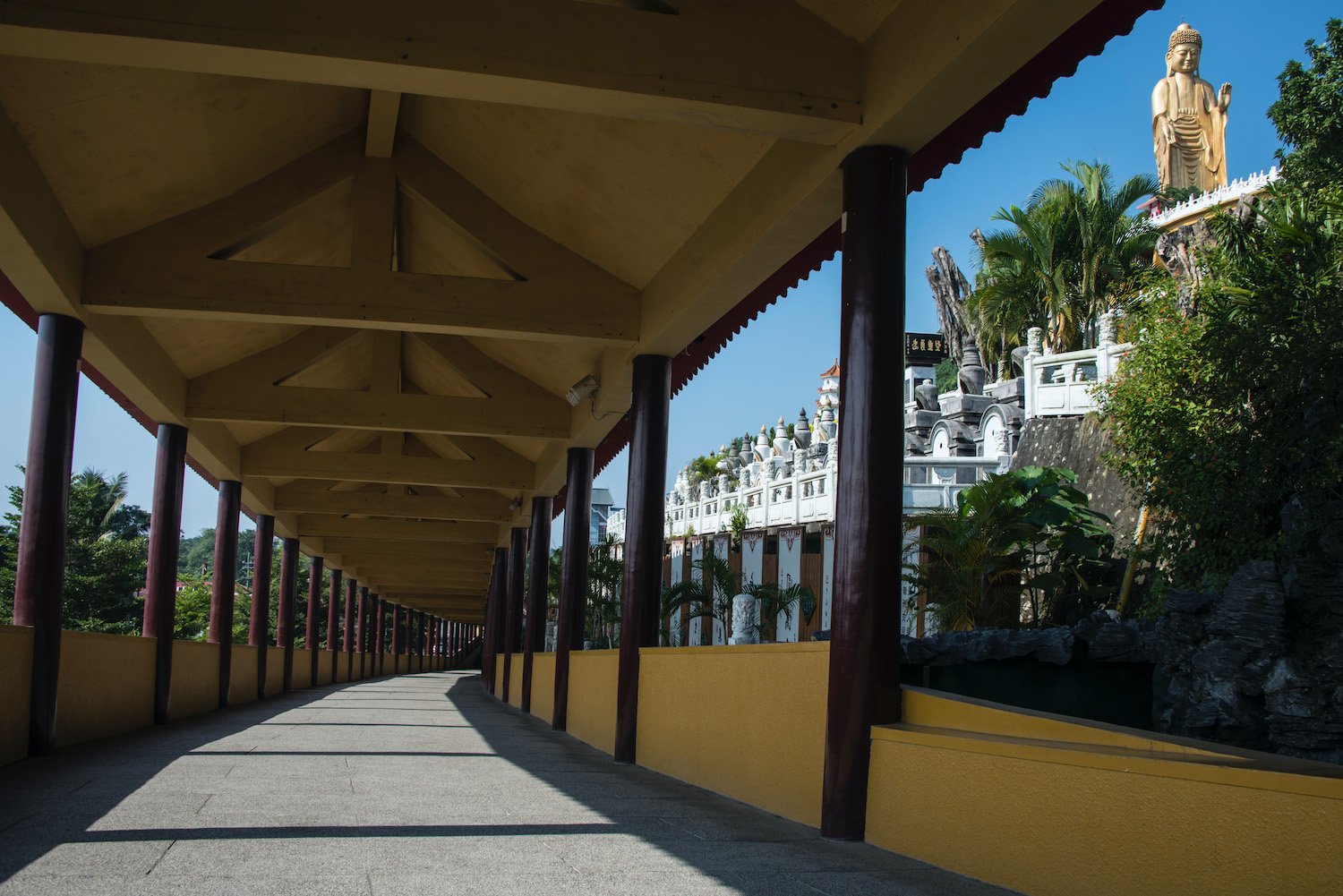 Important Features of Fo Guang Shan
Great Buddha Land
Whether with temples in Taiwan or in travel more generally, I like to start with the most difficult thing and then work my way to easier ones. The climb up to the so-called Great Buddha Land, to be sure, is a relatively steep one, especially if it's a hot and/or sunny day. The good news is that the view from the top is amazing—and so is the standing Buddha statue!
The Way to Buddhahood Path
From here, descend back down to ground level to the Main Shrine of Fo Guang Shan temple—note that this is not the "famous one" you've seen in pictures. Walking through here (the so-called Way to Buddhahood) will eventually take you to this place, however. So, like any good Buddha would do, I urge you to be patient.
The Eight Pagodas
Before you get to the famous Buddha itself, you will pass through a passageway lined by Eight Pagodas, four on each side. Note that while some of these pagodas feature air-conditioned lower tiers where you can escape the heat (and, potentially, learn something), you generally can't ascend them unfortunately.
The Grand Fo Guang Buddha
I'll start with an important fact: The "money shot" of the bronze Grand Fo Guang Buddha at Fo Guang Shan temple (the world's largest such statue) is best taken before you pass through the Eight Pagodas, so you can include them in it. With this being said, it's still working getting up-close and personal with the statue, even though doing so will make its enormity less apparent.
The Buddhist Museum
Note that reaching The Buddhist Museum, which is part of the main shrine, will involve some backtracking. However, this serves two purposes. Number one, you get to enjoy some A/C (notice how this is a common theme?) after you've finished sightseeing. This is especially welcome if the next bus isn't coming soon, which will almost certainly be the case.
How to Get to Fo Guang Shan
Getting from Kaohsiung to Fo Guang Shan is easy. Assuming you don't have your own set of wheels (and you very well might, if you've drive to Kaohsiung from Kenting, after finishing your Taiwan road trip down the country's east coast), you should make your way to HSR Zuoying Station, which is where you'll board your bus.
Specifically, bus 8501 will take you directly Fo Guang Shan temple; you can see a timetable here. From Kaohsiung Main Station, you can ride bus 8010, although timetable information online seems to be out of date. In either case, you can use your EasyCard to pay, so make sure it's charged up before you board.

Other Things to Do in Kaohsiung
Is Kaohsiung worth visiting? Absolutely, even if you don't visit Fo Guang Shan. Here are some of my other favorite things to do in Kaohsiung:
Dragon and Tiger Pagodas
Cijin Old Town
Sizihwan Lookout
Liuhe Tourist Night Market
The Bottom Line
Whether or not you've previously heard of Fo Guang Shan temple, this modern marvel is very much worth a visit. It's an easy day trip from Kaohsiung, which is itself an underrated city you should add to your Taiwan trip plan, if it's not already on there. In addition to seeing the world's tallest bronze Buddha statue and getting some great pictures, Fo Guang Shan offers you an opportunity for legitimate peace—well, if you can escape the cruel sun!